Book a demo
Solutions
Production monitoring
This is one of the basic features of MES SoftLi. Keep an overview of what is happening in your production: how the machines are working, where the bottlenecks are, what the current production efficiency is. Monitor key production parameters every minute and from anywhere.
MES SoftLi allows you to collect data from any line – from modern and older machines, to assembly workstations.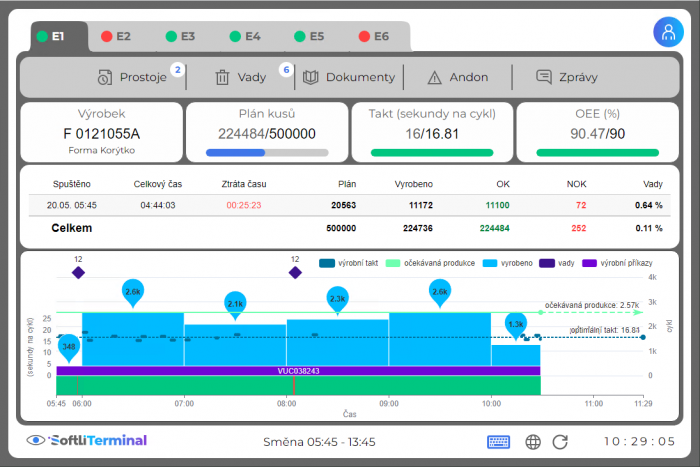 Traceability
Be able to trace product production data at any time during the production process. MES SoftLi records the identification of parts including their necessary attributes, which you can choose yourself.
You can see, for example, components ID, workplace, time, material used or process data. Any electronically readable technology is sufficient for identification – BAR codes, QR codes RFID, OCR, etc. So you can always go back to the traceability data you find in SoftLi's MES reporting tool for an unlimited amount of time.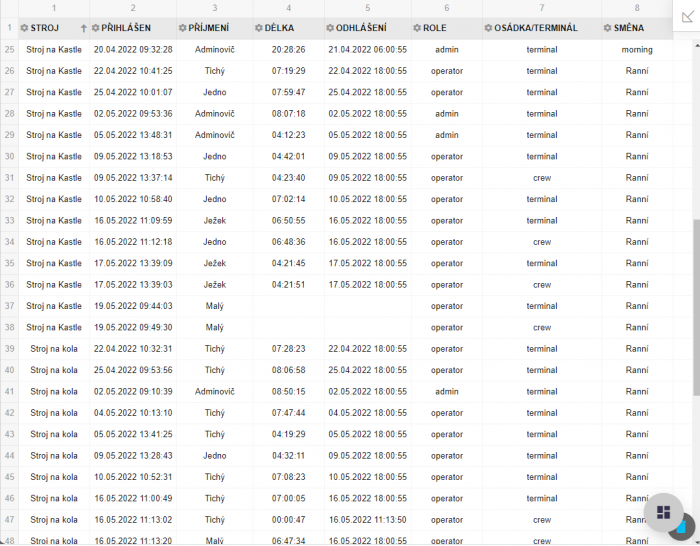 Production planning
Would you like to plan your production optimally? Would you like to prevent production scheduling where it cannot be produced? Would you like to see the plan on a timeline and not just rows in Excel?
Plan production conveniently with Gantt visualizations. View the individual workstations and the lead time of each production batch on the timeline. Have an overview of the status of plan execution by workplace at any time. Get estimates of whether it is realistic to meet the plan at the current pace. Be prepared for unexpected changes – such as staff or material shortages. Reschedule individual production batches in minutes and minimize losses.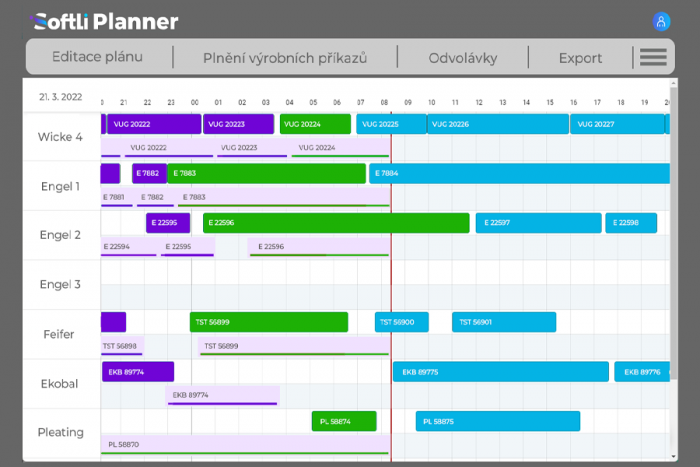 Reporting
See the production data on the display in clear tables and graphs. You will be able to react to changes during the shift. Your employees will also see their KPIs being met on an ongoing basis.
You can visualize not only current data, but also historical data with reports. You can build your own reports and dashboards or use ready-made templates. You can even connect your own data source, such as an ERP. Everything is online and you can monitor it on your phone!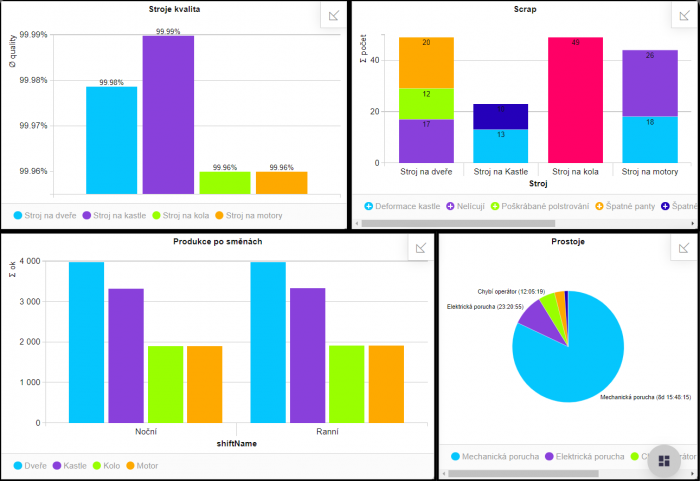 Integration
Increase production efficiency and reduce errors with modern integrations. MES SoftLi connects via API to important business systems - typically ERP, but also warehouse, time and attendance, accounting and CRM systems.
This way, MES SoftLi itself pulls in data that you have already entered into a system. You can see all production orders, standards, BOMs or employee attendance in MES. Transfer to fully automated production thanks to integration.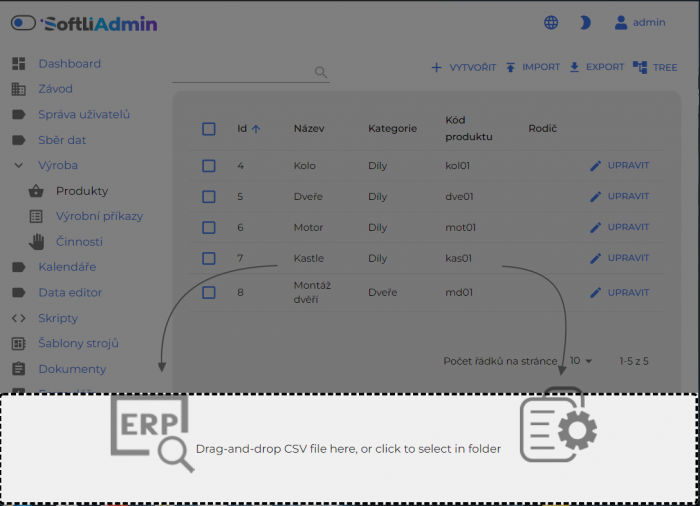 Assembly and manual production
Assembly workplaces, any manual production, welding, painting or product assembly, all of these are always more difficult to monitor. In addition, where there are multiple activities per production piece, it is necessary to keep track of the duration of the execution, the performers of each task and their sequence.
MES SoftLi can track data from these workplaces in real time using communication events. A communication event can be, for example, the start of an activity, the start of a job, downtime, a wrap, or the reading of a barcode. You can track the execution of individual jobs between each other, for example, by shift or worker.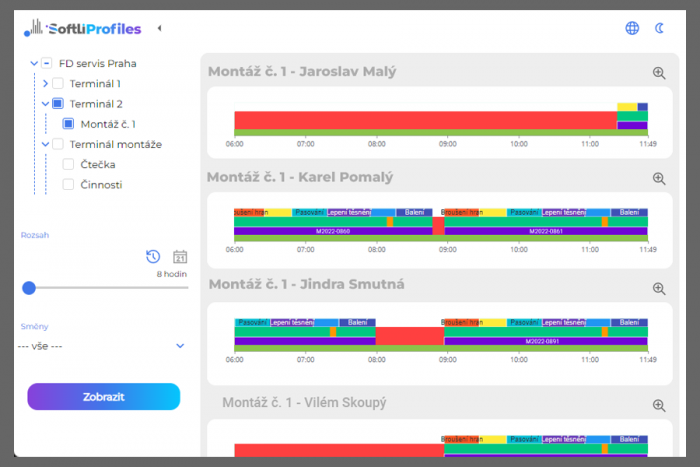 Documentation and training
Are you also bothered by cluttered production documentation, checklists lying around, training records in various places?
Go paperless easily! Keep all your documentation clearly in one place. Get an overview of documentation related to roles, machines, maintenance, quality. When the inspection comes, call up the training documentation with one click. Save costs for inspection personnel.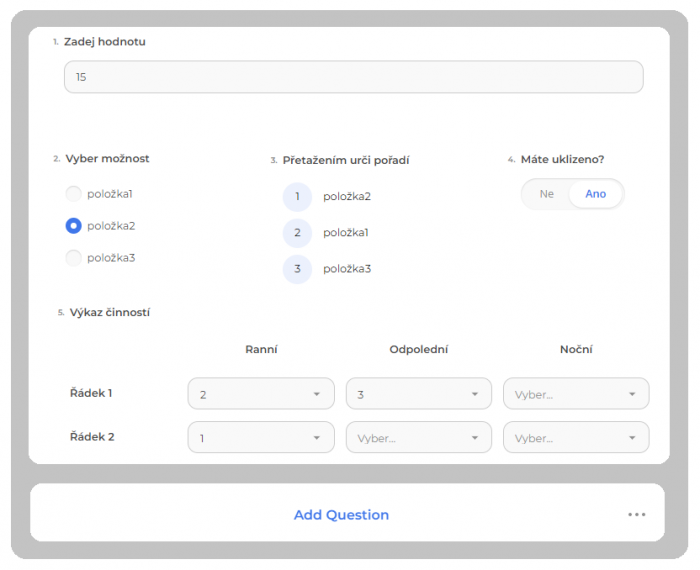 Visualization
Do you want to have your production hall in the palm of your hand? Always have an overview of how production is going?
MES SoftLi offers an interactive visualization of your production hall. On it, you can see the status of individual workstations in real time, as well as historical reports. Everything is clearly arranged and always at hand.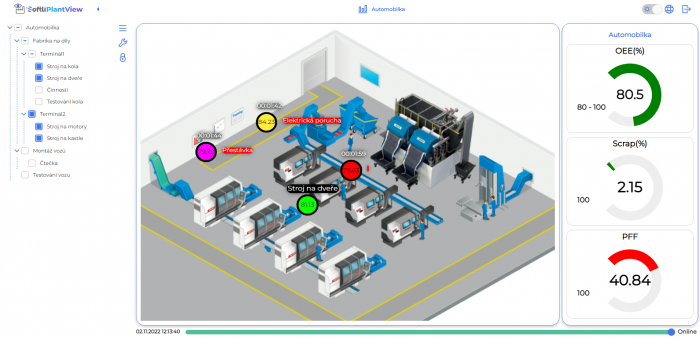 Quality
The quality of production is one of its key parameters. 100% quality means greater efficiency of the company and consequently better competitiveness.
MES SoftLi allows you to monitor quality in real time. When quality data changes, you will know virtually instantly. This saves you more material, human resources and extends the life of your machines. We can monitor the first stages of production and condition the continuation on certain input parameters. You can define and monitor your own checklists, including mandatory parameters within ISO or customer audits.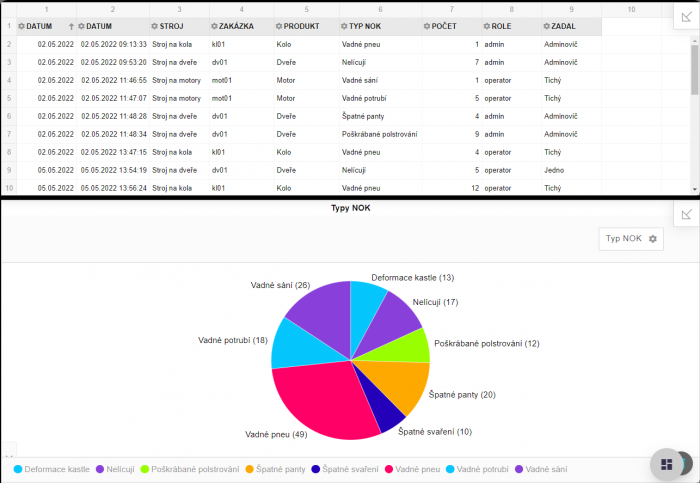 Andon
Get rid of delays due to waiting for maintenance! Call for help in two clicks directly from the machine terminal. You don't have to have a phone or find out who's on duty.
How does Andon work? You select the type of assistance on the display – for example material, maintenance, quality – and then call it with the click of a button. Everything is trackable and traceable. You can see who called for help, at what time, and, thanks to logging, when the help arrived, how much time was spent on site and how the request was handled. We also have an SMS gateway and email alerts.